Mary E. Urquhart, RN, MBA, CPHQ, President
In her role at New England Sinai Hospital, Mary E. Urquhart, RN, MBA, CPHQ, provides administrative oversight to hospital operations and quality management. She is directly responsible for risk management and regulatory compliance. She serves as the administrator of the Patient Care Assessment Program and is the coordinator of Joint Commission, DPH, CMS, and OSHA surveys. Urquhart joined New England Sinai Hospital in 1993. Her prior experience in health care includes several positions at Tobey Hospital in Wareham, Massachusetts, where she served as assistant vice president of quality/utilization review and regulatory compliance, director of admissions and outpatient services, DRG coordinator, discharge planning coordinator, and staff nurse. While employed at St. Luke's Hospital in New Bedford, Massachusetts, she worked as a home health nurse. She maintains her Massachusetts Registered Nurse License, and her Health Care Professional Certification (CPHQ). Her professional memberships include the American Nurses Association, Massachusetts Organization for Nurse Executives, National Association for Health Care Quality and the Massachusetts Association for Healthcare Quality. Formerly, she was the vice-chairperson/board of directors for the Brockton Neighborhood Health Center in Brockton, Massachusetts.
A graduate of Saint Anselm College with a Bachelor of Science in nursing, she also attended Simmons College for Health Care Administration Graduate Studies and earned her master's degree in Business Administration from Western New England College. She and her family reside on the south coast of Massachusetts.
Paul Spiegel, MD, Chief Medical Officer

Dr. Paul Spiegel comes to New England Sinai Hospital with over 10 years of hospital leadership and administrative experience. Most recently, he was the System Medical Director for Sound Physicians, with the majority of his time focused at Good Samaritan Medical Center in Brockton, Massachusetts.
In addition to his clinical responsibilities, Dr. Spiegel remains an active clinician. He is board certified in both internal medicine and in nephrology.
Dr. Spiegel earned a Bachelor of Science in applied mathematics-biology from Brown University in Providence, Rhode Island. He received his medical degree from the Brown University School of Medicine. Dr. Spiegel resides west of Boston with his wife and two children.
Gregory Malloy, MD, Director of Physical Medicine and Rehabilitation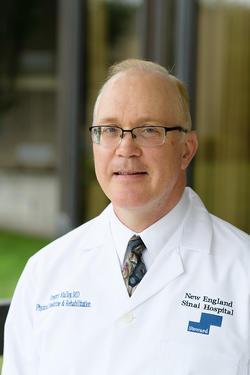 Dr. Gregory Malloy brings a stellar record of leadership in physical medicine/rehabilitation as well as a specialty in stroke therapy to his role at New England Sinai Hospital. Prior to joining New England Sinai, he was a physiatrist at Spaulding Rehabilitation Hospital where he focused on stoke therapy. 
Dr. Malloy earned his bachelor's degree from Amherst College in Massachusetts and his medical degree from New York Medical College in Valhalla. He completed his medical training in physical medicine and rehabilitation at the University of Washington in Seattle.
Traci O'Connor, Chief Nursing Officer
Traci O'Connor, RN, brings an extensive clinical background to her role as the chief nursing officer having worked nearly three decades at New England Sinai Hospital.
O'Connor began her career as a staff registered nurse in New England Sinai Hospital's respiratory/telemetry unit. Over the years, she expanded her nursing and managerial roles at the hospital by becoming an assistant nurse manager as well as a clinical educator. She went on to become the director of patient care operations and, most recently, the senior director of nursing.
O'Connor earned a Bachelor of Science in nursing from Fitchburg State University. She has also received Board Certification as a Nurse Executive (NE-BC) in 2018.
Elaine Noonan, MBA, CPA, Chief Financial Officer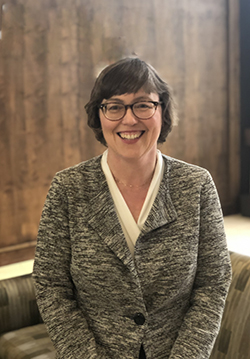 Elaine Noonan, MBA, CPA, has more than 30 years of experience working in finance, specifically in the health care industry.
Before joining the hospital's leadership team, Noonan was the finance director at New England Sinai's sister hospital Holy Family Hospital in Methuen, Massachusetts. Over the years, she held various financial positions at Southcoast Health System, Norwood Hospital and Brigham and Women's Physician Organization. Noonan earned a Bachelor of Science in accounting from Stonehill College in North Easton, Massachusetts and a Master of Business Administration from the University of Albany in New York.
Noonan is a certified public accountant and certified internal auditor and is a member of the American Institute of Certified Public Accountants and the Institute of Internal Auditors.