Speech and Language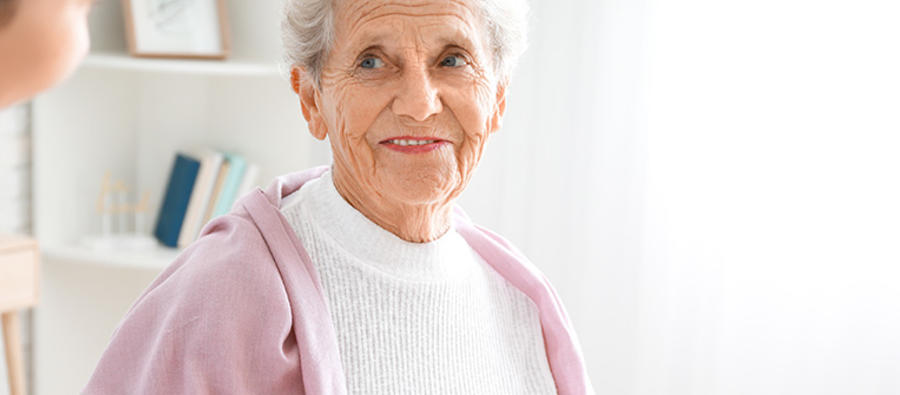 The goal of New England Sinai Hospital Outpatient Speech-Language Pathology Department is to evaluate and treat people who, as a result of an injury or illness, have speech, language, swallowing, or cognitive deficits.
Speech Therapy Programs Provided at New England Sinai
We specialize in patients with respiratory difficulties, neurological issues, including stroke and head injury, as well as other complex medical conditions that affect communication and swallowing. Certified speech-language pathologists help you improve your functional cognitive and communication skills, determine a healthy dietary plan for safe oral feeding and teach compensatory strategies and home programs.
Condition Treated By New England Sinai's speech-language pathologists
Aphasia

Difficulty understanding and comprehending verbal and written information
Difficulty expressing wants, needs, and ideas verbally and/or graphically

Dysarthria/Apraxia

Motor speech disorder (slurred, discoordinated) speech
Difficulty formulating sounds in an appropriate sequence

Dysphagia

Difficulty swallowing food, liquid, or pills
Coughing or choking during meals 

Cognitive-Communication Deficits

Difficulties with memory, problem solving and organization
Stuttering
Voice
Head and neck cancer
Laryngectomy

 
Program Benefits
Our certified speech-language pathologists help you achieve an enhanced quality of life by using state-of-the-art technologies and diagnostic testing to optimize your performance in speech, cognition, and swallowing. Our specialized speech-language programs are designed to meet individual needs and to increase independence in daily life.
We help patients with:
Training of compensatory swallowing techniques
Training and education on dietary modifications
Improving language expression and comprehension
Improving cognitive-communication skills, including memory, problem solving and organization
 
A Collaborative Approach
Our speech-language pathologists work with you, your family, and your referring physician to evaluate problems and develop a treatment plan that is just right for you. To make certain that individual medical care needs are met, our dedicated treatment team may include other specialty areas such as neuropsychology, ENT, physical therapy and occupational therapy.
In developing your treatment plan, we utilize the most current techniques, computerized equipment and specialized therapy, including:
Comprehensive treatment plan
Modified barium swallow study (MBS)
Fiberoptic endoscopic evaluation of swallowing (FEES)
Individualized aphasia treatment
Simulated living situations
Functional swallowing therapy
Lee Silverman voice therapy
Cognitive therapy for workplace reintegration